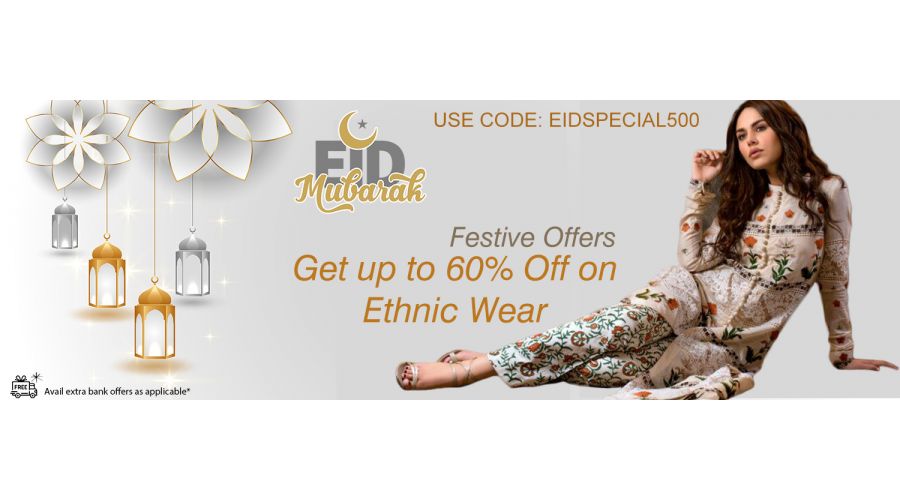 Celebrate the festive season with Lehenga choli
10-Jun-2021 01:11 PM
---
Get a captivating look by wearing traditional Indian attire. It is famously known as Ghagra, Lacha, and Chaniya. It is a three-piece Indian attire that comes with a long skirt, blouse or choli, and a dupatta to grace your looks. It is famous Indian attire that is the desire or love of girls during Indian marriages. India is the land of beautiful ethnic attire, colors, and special occasions.
Women admire looking the best on all occasions. And the simplest way to do so is by finding the right ethnic lehengas for it. The designer lehenga is another kind of ethnic wear that will help you shine. It is traditional ethnic wear whose demand is emerged during historical times but still continuously increasing at a fast pace. Ethnic wear is a type of wear that is made according to society that follows society's rules and traditions. This ethnic wear is most preferable during the festive season and on special occasions. Women love to wear it during many formal events. Lehenga Choli is the best and outstanding ethnic wear that helps you to stand out in the crowd. Lehenga Choli or ghagra choli is one the most stylish outfit in Indian Fashion. Lehenga Choli has traveled a lot in the past few decades. It came to our country as a part of Mughal business and since then, it has become the favorite occasional wear for women. The old Ghagra Choli has changed itself into wholly new and beautiful attire known as lehenga choli.
Festival season is the time when lehengas designs are most popular. Attend special occasions or marriage and flaunt flawlessly in these designer lehengas. Explore the entire range of Indian attire i.e Lehenga choli at reasonable rates only at 18th High Street.
Net is mostly seen as a delicate and risky fabric, but if you are confident enough you can pull off-net lehenga choli with the utmost elegance. Net is the only fabric that comes in more vibrant colors along with extra grace. With the changing fashion, designs and fabric also changes. Now the net designer lehenga is most preferable among girls. It is lightweight, easy to wear, and gives you slim look. You can wear this designer lehenga on any occasion like bridal wear, party wear, Wedding wear, sangeet, etc. Net Lehenga includes heavy embroidery work, patch work in multiple styles, colors, and designs authentic to various regions of the country. With the increasing trend of designer wear, lehenga designs have also come of age. Designer lehengas are more contemporary in feel and they also carry lots of style in them. These lehengas are beautifully designed to match the grandeur of vibrant Indian weddings and festivals. Designer lehengas offer lots of designs that are stunning and exclusive. Our selected designer lehenga cholis will ensure that on your dream day, you look nothing short of a princess. Explore a wider range of designs and choices in 18th High Street. All these lehenga designs are absolutely beautiful and stylish enough for fashion-savvy women. You will also remember that on a fashion show, Nargis Fakhri looking attractive in net designer lehenga. She looks glam after wearing this Indian attire.
What are different types of lehenga?
Lehenga is of different types like as:
Embroidery Lehenga
Net Lehenga
Designer Lehenga
Silk Lehenga
Brocade Lehenga
Cotton Lehenga
Simple Lehenga
Velvet Lehenga
A-line lehengas
Jacket lehenga
Mermaid lehenga
Panelled or kalidar lehengas
Flared lehenga
Half saree lehenga
Straight cut lehengas
And many more.
What is the difference between lehenga and ghagra?
There is a mild difference between the lehenga and Ghagra. Lehenga is worn on festivals and special events whereas Ghagra is a traditional skirt worn in daily lives by girls and women. lehenga is a bridal and party wear Indian attire while Ghagra is casual wear. It gives you comfort as well as an elegant look. These Ghagras are most suitable in the summer season while going for outings on the beach or park. Bridal Lehenga is perhaps the most popular form of Lehengas. The lehenga is much heavier when compared to the ghagra. Lehenga includes a skirt, blouse, and dupatta. while ghagra includes only a skirt. There is no need to wear a dupatta over the ghagra. You can wear ghagra with any stylish crop top. It is lightweight and suitable for any casual event.
Features:
Attractive
Loaded with Heavy embroidery work
Designer and Stylish
Preferable ethnic wear
Comes in different shades, fabrics, and designs
Beautifully designed dupattas in georgette, chiffon, and net fabric
Suitable for Indian marriage
Customized up to 42 inches.
best women ethnic wear
Comfortable blouse
Made from High grade and superior raw material
Subscribe & Get all updates.