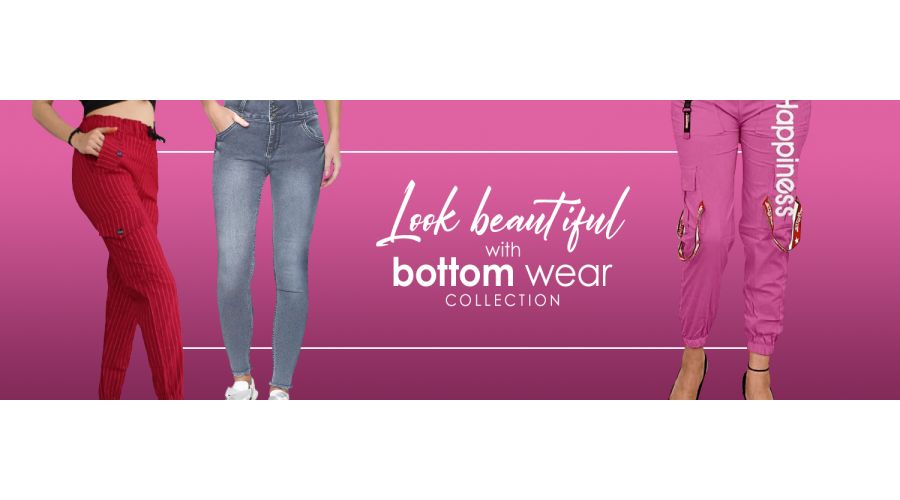 What is the best alternative with respect to jeans in summer?
04-Jun-2021 09:11 PM
---
What is the best alternative with respect to jeans in summer?
Summer is known as the hot season and recognized for clothing and outdoor activities. all people freshen up themselves by adopting some good practices and fashionable attire. Prepare yourself for summer by exploring a vast collection of summer clothing that is only meant for you. In summer, all you need is simple and comfortable clothes that will not give you a decent look but also are very comfortable and flexible. Comfortable clothing is necessary to perform your day-to-day task. if you feel uncomfortable, you don't work to your full capacity. If you are women who go to ofc by wearing jeans in summer, then you are also worried or irritated about your clothing. Jeans are also gracing your style but in summer, it creates a lot of itching, skin rash, and uncomfortably. Jeans don't give you the freedom of movement. It creates trouble if you wear jeans for approximately more than 10 Hours. If you are also irritated by wearing jeans in this hot summer and can't find a substitute, come to our place, 18th High Street. We have a wide variety of substitutes to fulfill your needs. Now, you can also opt for various alternative bottom wear collection that provides you more comfort in hot summer. Nowadays, the best bottom collection that replaces jeans and makes you feel sexy is pants. They can surely glorify your style. Pants are the best and ultimate solution with regard to jeans.
Why we prefer pants?
Everybody prefer pants with respect to jeans because it gives freedom of movement. I think a majority of women wear them because they are comfortable, and loose fit. They give you an outstanding look with flexibility. These pants are suitable for indoor and outdoor activities as they are very functional activewear for yoga, cardio, running, gym workouts, hiking, biking, or pretty much anything you can think of. Pants are meant for everyone, everybody wears them according to your choice whether men or women. I'm a girl and that's why I wear them for all of the activities. These are suitable for all occasions like formal or informal and even serve the purpose of casual wear around the house or running errands. If you are newly married and want to try some decent looks, then these pants will surely captivate you. Humans are of a sexual nature so when your wife wears them it's hard for you not to check her out. Explore a vast collection of designer pants at 18th High Street that is suitable for you and gives comfort.
Quality meets Style
Your style becomes glamorous when quality meets style. You stand out in the crowd by choosing comfy pants. These pants are more trending and are very standardized. A good, well-fitting pair of pants are the staple of any girl's wardrobe. Your wardrobe becomes incomplete without these designer and decent pants. Shop at our quality women's clothing store i.e 18th High Street right now. We made designer pants from high-grade raw materials that are according to the industry requirements. These pants never go out of style and always preferable season to season and year to year. These pants follow modern classics for versatile styles year-round. Every girl is looking stunning and beautiful in these pants. Even Shraddha Kapoor also spotted wearing perfectly teams-up striped pants with denim jackets & stuns in a stylish airport look. I also have pants that look like they fit tight while they have a close-to-the-body fit, and are the softest, flexible, and wonderfully accommodating pants I wear. Back to pants, I don't think it's the season ever go "out" especially in men's fashion, womans it does to some extent. What might go out are colors, cut, and the size of the pants as in fine or heavy. Pants are not seasonal, normally it makes an appearance in the spring or also in winter and everybody prefer it season after season. Some years it's more popular than others of course. In spring, like my jumper, it tends to jump to brighter colors. You choose some bright and light colors in summer and spring because highly dark colors irritate you sometimes. Pants are the best substitute for jeans. They are also sharing one common feature like jeans are unisexual. The pants are also unisex and comfy. They wear by anybody whether male or female. They give you comfort, elegance, and versatility. Choose the best pair of pants.
Features:
Attractive
Decent
Easy to wear
Easily washable
comfort
Flexible
Made by using twill lining fabric
Fancy Pants with tween button
Stitched
Suitable for all occasions like party wear or casual wear etc
Subscribe & Get all updates.